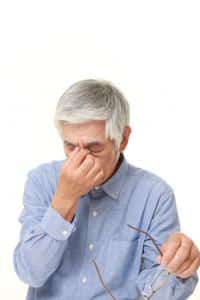 Dry eye is a common eye condition which can afflict anyone, however is more likely to affect those in the over 50 age bracket.
It frequently starts with an infection of the eyelids, known as blepharitis. Blepharitis causes inflammation of the eyelid rims, itchiness, and crusting around the lash line (particularly first thing in the morning). If left untreated, it can disrupt the production of tear film and cause Dry Eye.
Although low-grade blepharitis is a chronic condition, it usually responds well to appropriate management such as:
cleaning around the edge of the eyelids with a warm, wet cotton bud or clean face cloth.
eye drops (artificial tears).
the wearing of eyeseals at night while sleeping.
blephasteam – a pair of goggles designed to bathe and relieve the eye area with warm, moist air.
If you wear a CPAP mask for the treatment of sleep apnea, and it does not seal properly, this may also cause or exacerbate Dry Eye Syndrome as it allows a constant stream of air to vent towards the eye, drying it out.